All startups, regardless of which industry they are involved in, will inevitably face some of these challenges during their first few years:
Acquiring their first users.
Scaling their product or service.
Growing their business.
Each of these is a difficult challenge that requires time, effort, and money to overcome. However, there is another consideration that is usually underestimated, despite the fact that many studies and specialists have proven its importance over and over. I am referring to the impact of product design on the growth of a business.
Product design is a tremendously important approach to create user-centered solutions. It's a discipline that combines strategies and methodologies such as Design Thinking, UX Design, UI Design and Agile & Lean to forge solid ties between a product and its users, while also allowing businesses to cut costs and increase revenue.
In order to provide valuable insights on the benefits of product design, we put together a list of the 11 most important reasons why investing in product design should be a top priority for all types of businesses.
Here's what you need to know:
1) Reduces development costs and rework
Starting off with a focus on UX design from the very beginning of a project keeps the development team from having to do the same work twice, and prevents unnecessary expenses. The process of creating a user-centered digital product requires many steps, including research, information architecture, wireframing, prototypes, and user testing.
By researching customers' behavior, we can understand which features of the product are best adapted to our users' preferences. And working with prototypes and testing them with real users allows us to verify the functionality of the product. This also helps us make decisions about the overall design or individual features without investing hours of development time.
In contrast, digital products that don't follow these procedures usually include many unnecessary bells and whistles that result in missed deadlines and cost overruns for the business.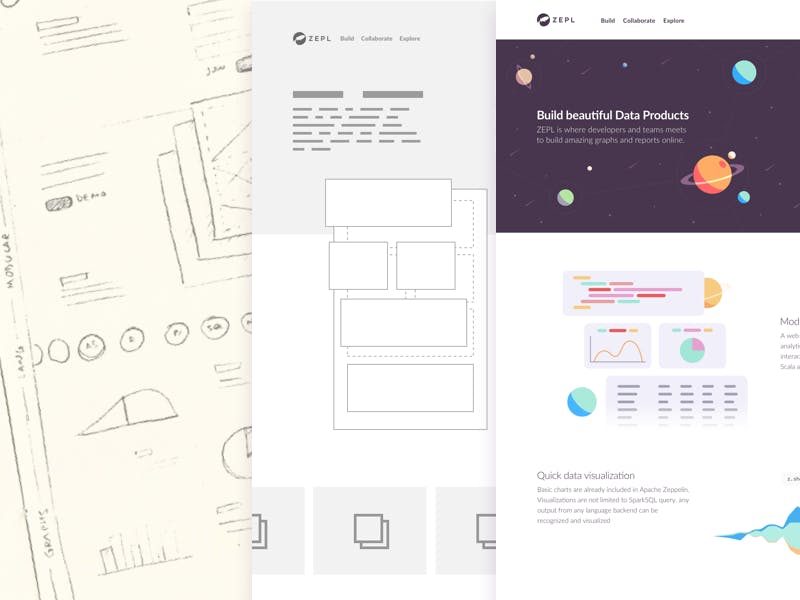 From wireframes to visual design. This how we helped Zepl create a user-friendly Big Data platform.
According to the Institute of Electrical and Electronic Engineers (IEEE)developers spend up to 50% of their time on avoidable rework rather than on what they call value-added work, which is basically work that's done right the first time.
The IEEE also states that fixing an error after development can be 100 times more expensive than it would have been to develop it correctly in the first place.
2) Motivates users to interact with your product
A fundamental part of the design process consists of researching customers and their context. In this stage, UX designers create profiles called User Personas or Proto Personas that include personal information, actions, emotions, and motivations of the target user group for the product. Proto Personas are an indispensable tool for creating experiences that drive users to interact with our app or website.
UX design relies on fundamental aspects such as personalization and consistency. An effective design allows the user's interaction to flow in a natural, predictable way. The design is adapted to the needs and expectations of the users, not the other way around.
A study conducted by Zendesk found that 87% of customers think that brands should put more effort into providing a consistent experience.
3) Reduces exit and drop-off rates
Two well-known Marketing metrics are the exit rate and the drop-off rate. These terms refer to the percentage of users who stop using a website (exit rate) or do not complete the conversion funnel (drop-off rate). While multiple factors can influence a user's decision to leave a website, many people don't realize that an important part of these decisions is directly related to design and user experience.
Accessibility, ease of use, clarity, consistency, simplicity, and transparency are some of the fundamental aspects of customer experience. An individual who finds it difficult or doesn't know how to interact with a digital platform will eventually stop trying to use it. Therefore, it is of utmost importance to always match the design to the needs and expectations of the users.
4) Increases customer loyalty
As we mentioned earlier, an effective design doesn't just help attract new customers, but also allows businesses to retain existing clients. User loyalty is earned through the creation of positive experiences. When customers are happy with a product, they will continue to use it. One of the tools UX designers use to bring about such gratifying experiences is the Customer Journey Map. Basically, this is a detailed map of the path taken by users before, during, and after buying a product or contracting a service.
Customer Journey Maps build user loyalty by allowing teams to create intuitive, positive experiences that meet the specific needs and objectives of the users.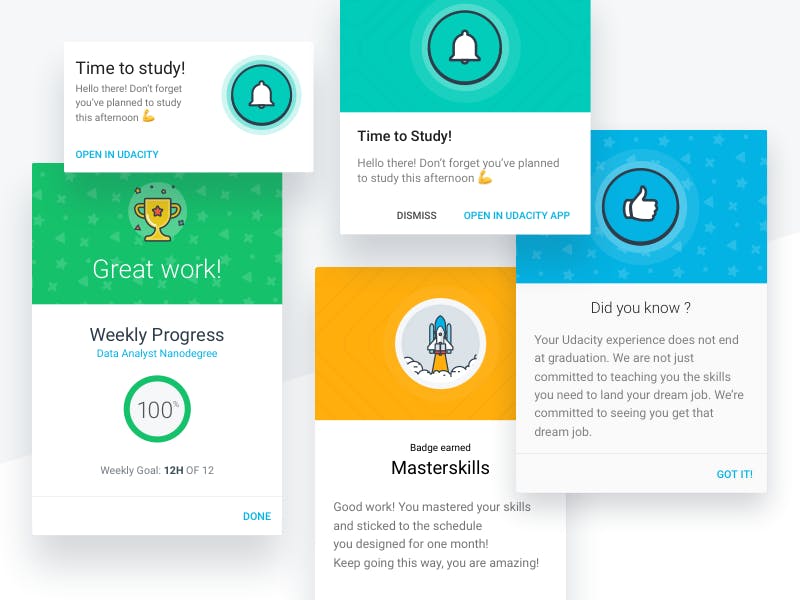 We created this set of visual elements to motivate users towards finishing their courses. Check it out here.
According to this study conducted by Zendesk, 75% of respondents say they'd return to a company with excellent product or service.
5) Stimulates social sharing
When a product or service stimulates an emotional response from its users, those customers are motivated to share the experience with their friends and relatives. When an individual promotes a product in a genuine way, it generates trust among people who didn't previously know about the product. A personal recommendation is a hugely powerful tool that not only helps to retain users, but also to attract new customers. With regard to this observation, Harvard Business Review affirms that "satisfied customers have a greater probability of recommending a product by word of mouth".
According to Zendesk, 56% of respondents say they'd recommend a website with great service to their family and friends.
6) Optimizes work times and keeps you from wasting resources
A project focused on product design will normally include methodologies like Design Thinking, Lean, and Agile that work together in a complementary way. Design Thinking is an approach that helps design teams explore and understand the problems experienced by users at any given point in time. Leanenables teams to build the right product to solve those problems. And Agile helps teams to choose the most efficient way to develop a product. Using these methodologies allows product design teams to follow an integrated process that assures assignments will be completed within the estimated timelines.
People are any company's most valuable resource. However, when human resources are not managed in the right way, work times are extended, development processes become chaotic, and companies find themselves burdened with unnecessary costs.
Applying a Product Design approach helps both big companies and startups establish well-organized roadmaps to develop their projects and effectively administer their resources in all areas.
According to this study, 60% of customers between 18 and 34 years old think it's more important for enterprises to resolve the problems within their product than rely on customer service representatives.
7) Helps products to stay competitive
On average, companies in any industry compete with 10 to 100 other companies that offer a similar product or service. If an individual has a bad experience with a platform or doesn't immediately understand how to interact with a website, how to purchase a product, or how to sign up for a service, that individual is probably going to turn to the competition.
According to Gomez Report, 88% of customers are unlikely to return to a website after a bad experience.
Gomez report also states that at peak traffic times 75% of the online consumers will go with the competition if a website has bad performance and slow load times.
8) Reduces training and adoption costs
The goal of any digital product should be to make life easier for the user. Therefore, it's essential to avoid making customers have to figure out how to interact with our platform. As designers, it is our responsibility to think for the customers and prevent them losing time and energy in understanding how to use our product.
Customer interaction with our product should be natural and intuitive. Users should always know exactly where they are, where they should go next, and how to return to where they were before. A product that has to explain how it should be used is destined to fail.
9) Reduces frustration and adds value to users' lives
When customers utilize a product, they have a goal in mind. They're probably trying to solve a problem and they have expectations about how that problem should be resolved. A product with a poor UX Design doesn't meet the customer's expectations, can't deliver what the customer hopes for, or even places obstacles between the customer and the solution. This frustrates the customer and damages the company's image.
With user-centered products, on the other hand, each interaction is designed to make the experience smooth and easy. Customers who accomplish their objectives, solve their problems quickly and readily, and feel supported in that process, are happy customers. The ultimate goal of UX design is to add value to people's lives.
We worked with Ualá to create a user-friendly mobile app that simplifies the way people handle their personal finances
This philosophy can be seen, for example, in digital products such as Banco Galicia's Online Banking. The redesign of the Banco Galicia digital experience resulted in a tremendous improvement in their customers' satisfaction.
10) Helps you choose the right approach and the right platform
Thinking about a product or service from a design perspective allows us to understand who our customers are, how they act, where we can find them, and how best to initiate contact with them. In order to gather this information, design teams utilize tools such as User Stories, Proto Personas and Customer Journey Maps. These tools are invaluable for determining what medium is best suited to our product or service, and where to focus our energies in order to successfully carry out the project.
According to reports from Hootsuite and We Are Social, there are currently more than 5 billion mobile users worldwide. However, a study by Google has established that even today, there are thousands of companies whose websites are not designed for mobile devices. Applying a "mobile first" approach ensures the best possible user experience, regardless of the device: desktop, smartphone, or tablet.
We approached the design of Xapo's landing page with a mobile first mindset.
According to Google, while nearly 75% of users prefer a mobile-friendly site, 96% of consumers say they've encountered sites that were clearly not designed for mobile devices.
Google's report also states that 67% of customers are more likely to purchase on mobile friendly sites.
11) Increases revenue
Simplicity, transparency, and ease of use have a direct impact on the conversion rates of a product. An interface designed to meet customers' needs has a much higher probability of conversion than one that does not meet these criteria. If a product satisfies all the requirements of navigation, usability, and great design, customers will be motivated to do what companies want them to do — buy a product, subscribe to a service, or open an account. UI/UX design utilizes visual and content elements that drive users to complete all the steps in the conversion funnel.
Fab.com is an example of a company that exponentially multiplied its customer base and its revenue after implementing a product design approach. In less than two years, fab.com wentfrom 130,000 users to 6,000,000 and reached $150 million in sales.
Final words
Product Design has been successfully applied by both huge corporations and startups to improve their products and services. Jeff Bezos, CEO of Amazon, insisted that Amazon invested 100 times more money in customer experience than in advertising campaigns during its first year. In another success story, Joe Gebbia (CPO and co-founder of Airbnb) affirmed that investing in design propelled the company from the brink of failure to an estimated value of 10 billion dollars.
For better or for worse, the experience users have with a product is directly associated with their emotions. Being able to control the emotions generated by our product or service is a major determining factor in the success or failure of our business. The user experience is not an independent variable — it can be studied, designed, proven, and improved over time. Investing in design is investing in customers. Therefore, by definition, investing in design is investing in the company's success.
At Aerolab we work together with startups to create digital products digital products focused on a great user experience. Recently, we worked with Raised Real, a San Francisco startup that applied user-centered design to expand its services throughout the entire United States, increase its customer base, and raise an A Series A round.
Here's how Raised Real applied user-centered designed and took its business to the next level: Check out the Case Study